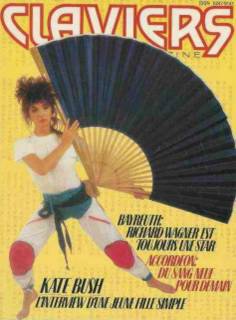 Aaaah Kate!

Hang on, I was five-years-old at the time. Yes, Kate's voice wasn't to my liking at that tender age. Instead, I was more interested in being Morten Harket from A-Ha. Remmeber the video for Take On Me? Yeah, it had everything. Comics, a seedy chippy, and to top it off Morten got the girl at the end...Oh, sorry.
Anyway, the fabulous Kate Bush apparently has a new album out this year (not to mention Andre 3000 wanting her to guest on the next Outkast album as well). She's so excited about it she decided to post details on one of her many adoring fansites
here
.
In other KB news, the irrelevant
Brit Awards
have decided to throw a party in their own honour by announcing the Best British Song in their 25 year history (oh well, had to get something to replace Best Dance category). One choice for every nausiating year of Brits, although each selection isn't necessarily the best track of that year. No Radiohead of course, just 'classic' tracks from Simply Red and Robbie. 'Wuthering Heights' is among the shortlist, but I doubt it'll be in with a shout. Still, it could be worse. Will Young could be nominated. Crap,
spoke too soon
...