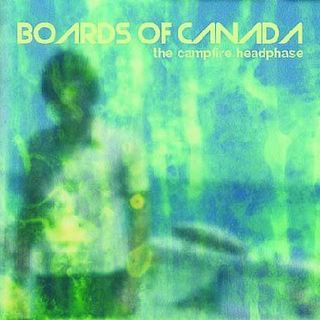 Woozy goodness abounds.

Album of the weekBoards Of Canada
-
The Campfire Headphase
It doesn't feel like three years since everyone's favourite Scottish electronic duo were last filling our ears with lush, dizzy soundscapes. In fact, it seems much longer, especially since Mike Sanderson and Marcus Eoin are so far ahead of their contemporaries that an age probably has passed since an electronic album bearing the quality of
The Campfire Headphase
has graced the Major Leaguer stereo. Well, maybe that's not quite true, but the high standards BOC set early in their career have influenced a generation of bedsit beatmakers around the globe, much in the same way Radiohead or Jeff Buckley influenced the glut of high-pitched emoting bands that were a dime-a-dozen at the turn of the century. It's also safe to say that BOC's latest collection of fables from a faraway land is one of 2005's most anticipated releases, with messageboards, indie sites, and not to mention copious blogs (yes, this lil' ol' site included) being overloaded with information and hype on WARPCD123. There were even erroneous tracks 'leaked' all on the web during the last month to wet the whistle of fans the world over, in one of the strangest forms of flattery shown towards an artist by fans in recent years.
Indded, such anticipation is merited in the case of
The Campfire Headphase
, which proves to be the equal of the duo's previous album,
Geogaddi
, if not quite a career peak. 'Chromakey Dreamcoat' warbles gently along a sea of gentle broken beats, while the spectral beauty of 'Dayvan Cowboy' starts slowly with the gentlest of guitar loops, before taking flight. Shimmering strings weave in amongst crashing hi-hats before fading into the distance, providing the albums highlight. Where this latest album differs from previous BOC outings is the way in which the duo have integrated the guitar soaked melodies of Bibio, as well as the skewed beats of Boom Bip, to provide an atmosphere that although might not please the hardcore fans of
Music Has the Right To Children
, which remains a benchmark electronic recording that continues to assume greater importance with every passing year, shows the duo aren't going to rest on their laurels just to please the purists. A clear sign that while Sanderson and Eoin are continuing to follow their own path, they're not afraid to venture into the unmarked trails etched in the grooves of
The Campfire Headphase's
dream-like landscape.
Listen to
Boards Of Canada's
The Campfire Headphase
here
.